Rovinj is a little jewel in the Adriatic Sea, considered the most romantic coastal town in the Istria region with its old town of colourful cobblestone alleyways and beautiful harbour bars along the rocks. It is a mini Venice with not nearly as many tourists. Of all the places we visited on our European adventure this year, Rovinj was by far my favourite.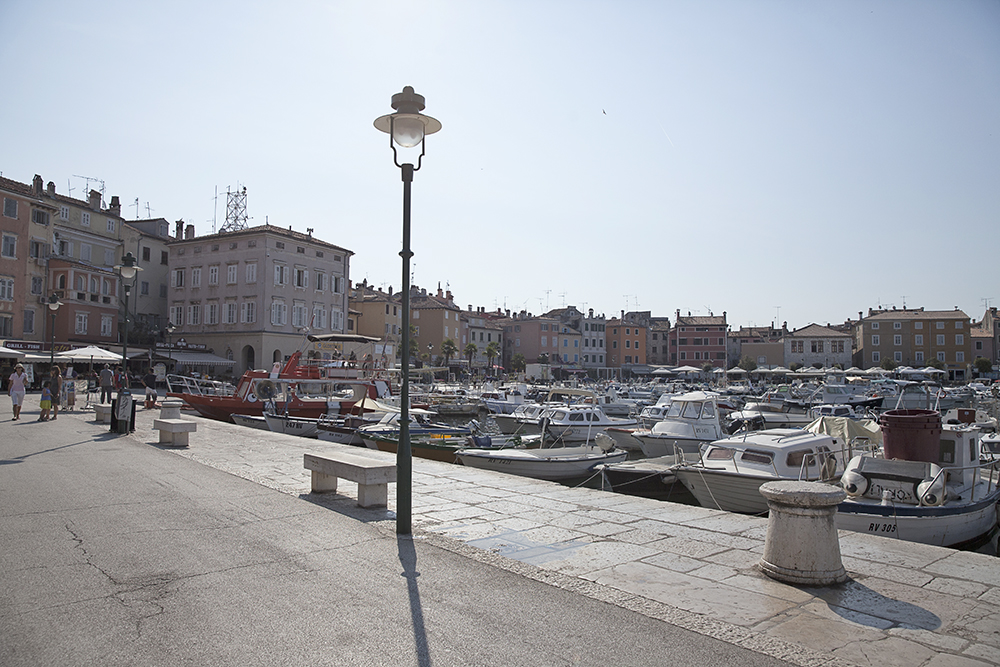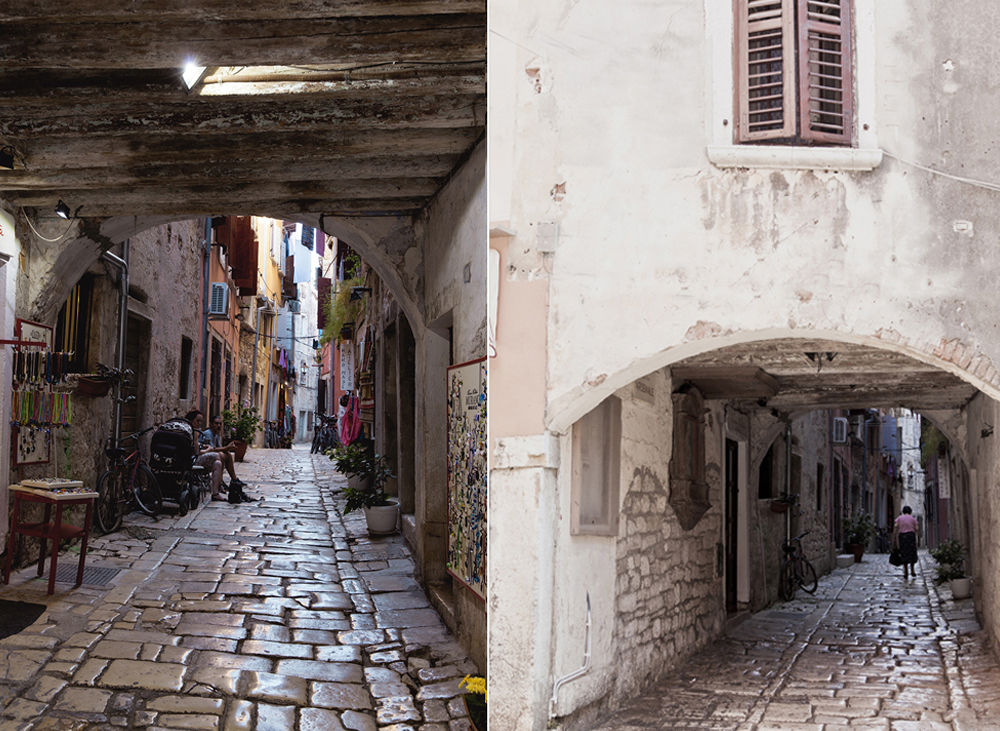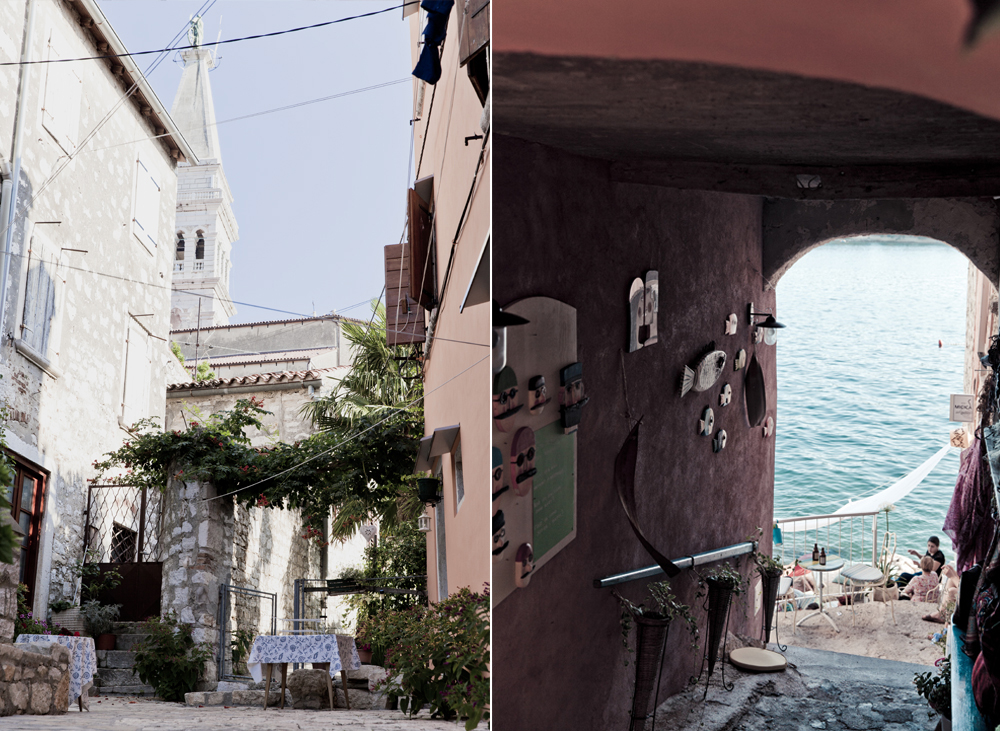 Ending our road trip from Ljubljana via the Predjama castle and UNESCO Skocjcan caves  (you can read more about Slovenia HERE), we arrived into Rovinj early afternoon and checked into our hotel, The Arupinum, a new, small, modern hotel located a 15 minute walk from the town and close to a beautiful national park where you can find Lone Bay, a popular beach.
To make the most of our afternoon before the sun set, we headed straight out for cocktails along the water's edge at the Monte Carlo bar. A cute little bar where you can either sit upstairs at the tables, or for something more casual and perhaps more romantic (or just plain uncomfortable – depends on your outlook) follow the rocky steps and sit on cushions along the rocks. We chose the latter.
After several of our new favourite summer cocktails – "the Hugo" champagne Aperitif with elderflower (you had me at elderflower), and Aperol spritzes (how European did we feel?!), we moved on to dinner before the danger of falling backwards into the water when we stood became very real.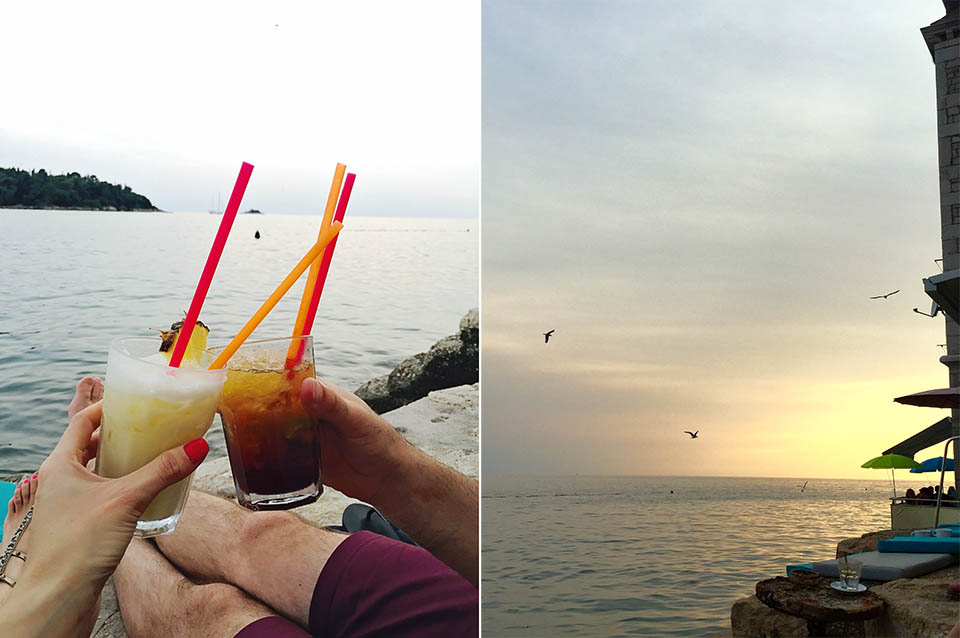 We ate dinner at Stella Di Mare, a busy restaurant along the water with a friendly owner winning everyone over with his charm and good humour. It was my first introduction to the much anticipated truffle pasta and it did not disappoint.
On our second day we walked down to the National Park for a swim. I had to come to terms pretty fast with the fact that there were no white sand beaches like in Australia, and if I did want to submerge myself in the crystal waters I was going to have to climb several steep rocks up and down to jump into the water. We did find a "real " pebbled beach closer to our hotel, full of locals and children walking on big pebbles without a care in the world. We watched in awe – how didn't it hurt their feet? Accepting just how delicate the soles of our very sore feet were, it was then that the thought of wearing those rubbery, anything but sexy swimming sneakers" were soon to become our reality.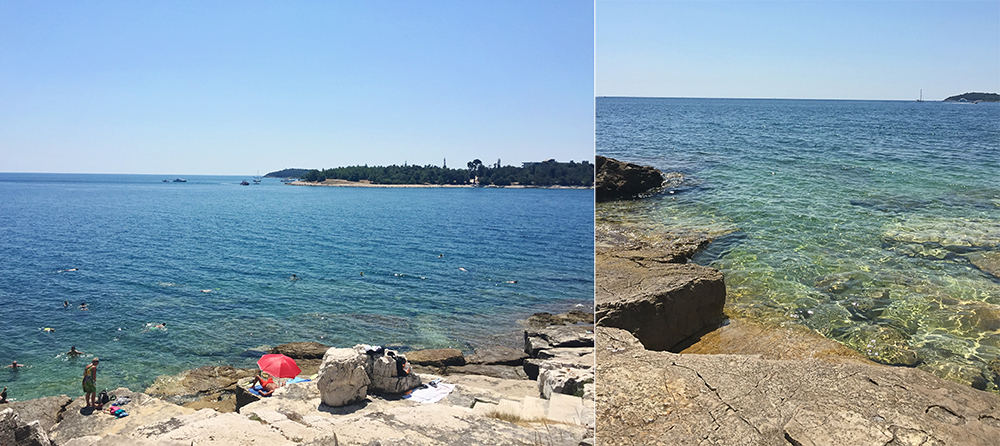 Slipping into our routine – cocktails before dinner – we went to Valentino Bar,  a champagne bar and more "upmarket" version of Monte Carlo bar with a slightly better view of the sunset. A few more Hugos and Aperol Spritzes were downed before a walk up the hill to watch the sunset, in time for our reservation at Monte.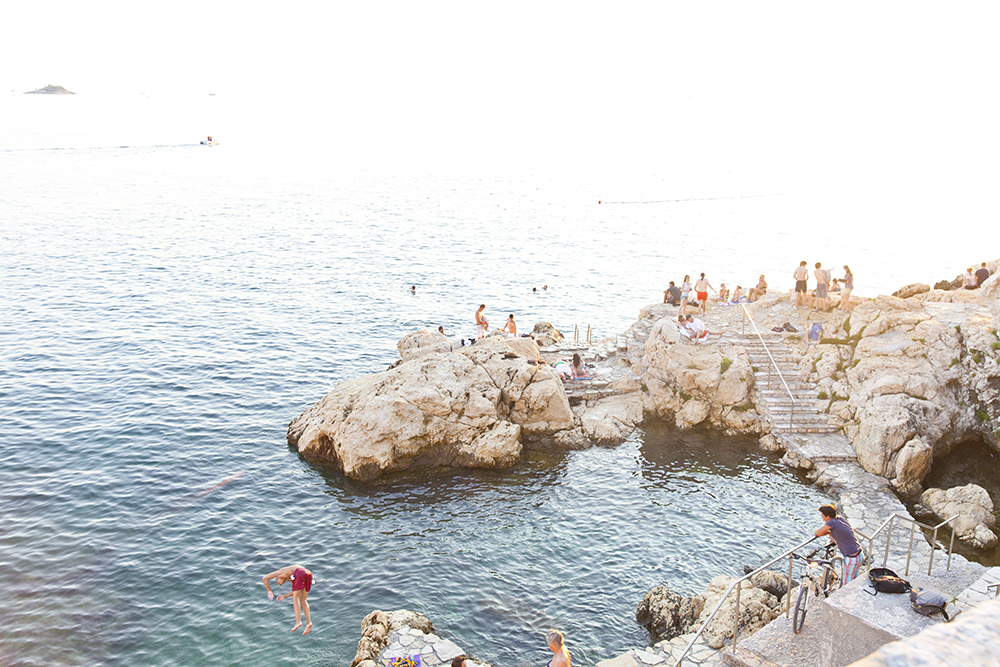 Rovinj is one of the most romantic cities on the Istria coast, so I wanted to find a nice restaurant to end our last night here. Reviews were all positive for Monte but with Rovinj being a small town, I wasn't sure what to expect. THIS PLACE BLEW MY MIND AWAY. I like a good meal, but do not consider myself a "foodie" and this restaurant changed everything for me that night.

As soon as we were seated, we were served a filo pastry with olives sitting on a piece of coral. While we nibbled on it, DD decided it would be a travesty to not order the degustation menu on offer. As I don't eat seafood I wasn't easily convinced until the incredibly friendly waitress won me over by informing me there was a "secret" menu for people like me. All smiles.
The photos do not do the meals justice, but to give an idea of what the "secret" menu was see photos below. The seafood "Essence" menu is well worth trying for the incredible display of each plate. Each plate was beautifully presented and exceptional in taste accompanied by wine to suit each meal.
We cursed ourselves for having a second round of bread during the meals and did not anticipate dessert being another 3 courses, bringing the total meal count up to 11, and each course was rather large. I learnt that night it actually IS possible to say no to chocolate. Well, maybe … it would have been rude not to try a sample at least.
Monte is not cheap but worth every cent. We may have rolled down the hill afterwards and not needed to eat for an entire week after, but the experience will be with us forever. It definitely made me appreciate fantastic food and great restaurants. We were just grateful we chose the 5 course plan and not the 7. 😉
You can view some of my photos of beautiful Rovinj HERE