The day I left my passport behind and flew to the Australian Outback for a 6 day Road trip was by far one of the most incredible (short) trips I believe I will ever do. Photos of this area do not do it justice and the Outback definitely needs to be seen with your own eyes.
It's easy to take your own home country for granted. Sometimes we neglect to look past our every day life routine and fail to see the excitement sitting at our own backyard
I am one of those people. The temptation of booking a flight overseas usually gets the better of me. Travel for Australians in their own country can be very expensive and put people off. I can safely say now that I've seen the Outback (albeit only a very small part), I know that it's totally worth it.
6 days is not nearly enough to see all of the Australian Outback but if you are limited on time here is an idea of what you can see and do.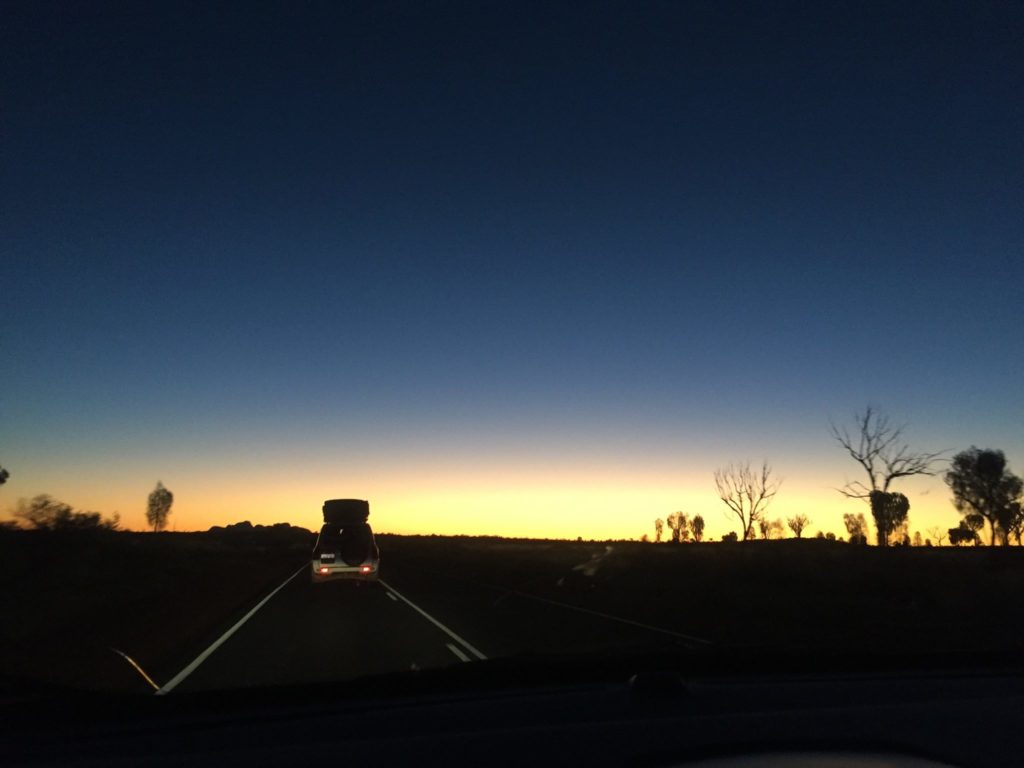 2 NIGHTS IN ULURU:
What you need to know
Time to Travel
We travelled mid-August (winter in Australia). It is recommended not to travel in the summer seasons as the Northern Territory reaches extremely high temperatures limiting your time walking on a lot of the walks and hikes as it would be dangerous during the hottest parts of the day. There are also thousands of pesky flies.  Winter nights are a lot cooler so don't expect balmy nights. We were "prepared" but it didn't go below 10 degrees at night, so wasn't too bad. The days we had were low to mid 20's (celcius) sunny, and warm.
Car Hire
Car companies charge by the km's in the outback and you will be clocking  A LOT of km's so best to work out your average driving distances so that you are not surprised by the bill at the end of your trip. Hertz gave us 600 free kms and then charged 24 cents per every km after.
Accommodation
Unless you are camping, Hotels in Uluru are extremely expensive. We stayed at the Outback Pioneer hotel (they also have camping on their grounds)  It is 3.5 star and somewhat basic in its rooms and decor but one of the cheapest hotels in the area and was more than enough for our 2-night stay. There is a restaurant onsite and a bar with bar food as well.
Hotels in Uluru have an agreement with all the surrounding hotels. You can choose to sample any of the hotel restaurants and the charges will go back to your hotel bill. This means you don't need to be a guest of the particular hotel you choose to eat at and there is no fuss when paying the bill after your meal.
This came in handy when we chose to have lunch at the more exclusive 5 star resort Sails in the Desert
DAY 1 Uluru:
Straight off the plane and too early for check-in at our hotel, we headed straight to the National Park to walk around the base of Uluru. Entry fee to the park is $25 per adult for 3 days.
It takes approx 3 hours to walk the base of Uluru and there are a lot of signs signalling the sacred parts of the rock that cannot be photographed. They did seem to be the most spectacular parts of the rock but we respected the customs of the Aboriginal people and kept our cameras down in these areas. Another reason why you must see it for yourself.
I expected it to be large from seeing photos, but it's not until you are walking around it do you really realise the enormity of this incredible ROCK. Being a photographer, the colours are out of this world. No editing or filters required. The blueness of the sky contrasted with the orange of the rock took my breath away.
I have heard about the different colours that the rock turns but experiencing this in reality is really something else. We didn't see a colourful sunset as the sun set behind the viewing area,
but seeing the moon rise above Uluru definitely made up for that disappointment.
DAY 2 : Kata Tjuta – The Olgas
The next day we drove to Kata Tjuta, also known as "The Olgas" (which is about 45 minutes from Uluru). The Olgas are a formation of large domed rocks that don't get nearly enough recognition. Uluru is usually what comes to mind when we say the Australian Outback, but in my personal opinion, Kata Tjuta are a bit of an under dog in this area of the world.
I thought Uluru was amazing, but having known little about The Olgas, I was pleasantly surprised. I decided this would be the highlight of the trip for me. And I was not wrong.
There are many different look-outs, and you can decide how long you want to walk. We did the full 3.5 hr walk through the domes. The scenery is stunning and the noises are so calming. All that you hear is the wind blowing and the peacefulness of the birds chirping as it echoes through the rocks.
That night we went to the "Field of lights" art installation created by Bruce Munro. There are more than 50,000 solar powered lights in the field below Uluru that light up  after dark. I highly recommend seeing the exhibition before it ends in April 2017. We took the tour from our hotel and had canapes and wine as the sun set and then were allowed to walk throughout the installation for half an hour.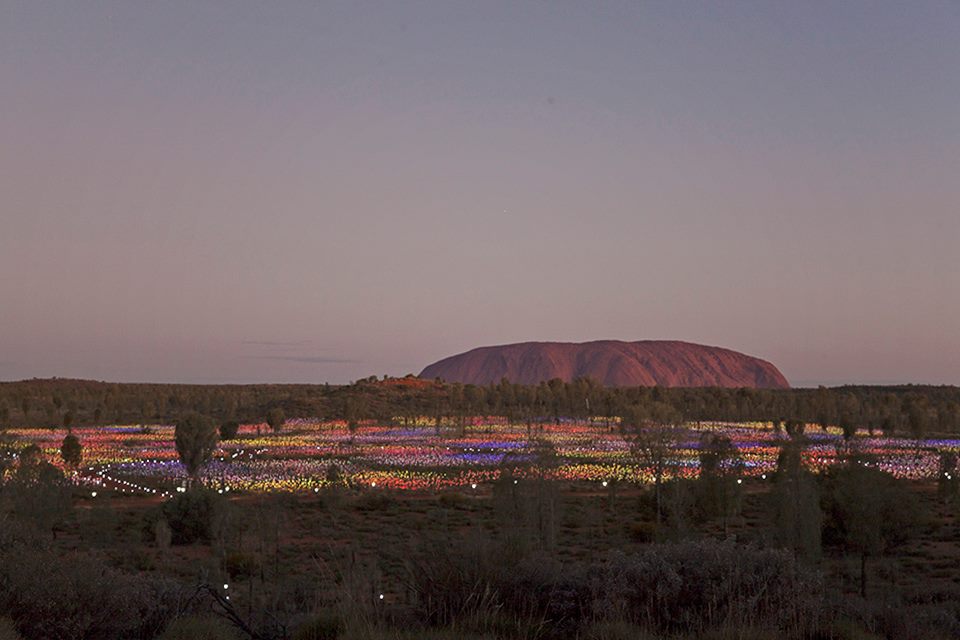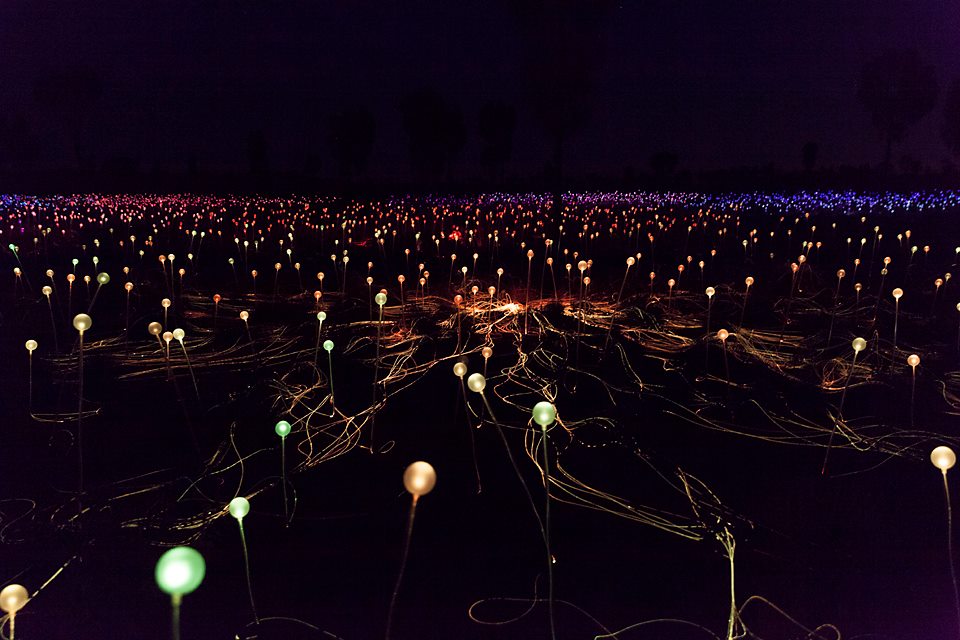 DAY 3 – KINGS CANYON
Our road trip continued with a 3.5 hr drive to our next stop, Kings Canyon. We stayed at Kings Creek Station, a camel station just outside of the National Park. The accommodation is basic camping or safari tents. We booked the Safari tents and were greeted with a small tent with 2 single beds, a fan and a heater. Bathrooms were nearby, along with a large kitchenette and fire pit. You wouldn't be wrong in feeling like you were in an episode of M.A.S.H as the nearby helicopters land.
There is a very basic cafe onsite and not too much else around unless you drive another 20minutes past the canyon to Kings Canyon Resort,  a nicer hotel with a spa, pool, large restaurant (where we ate one night) and a pub across the road.
Arriving later in the day we chose to drive to the National Park and do a quick an easy walk at Kings Canyon. It said 1.5 hours but was more like 30minutes to walk the easy path down to a waterhole.


DAY 4 – KINGS CANYON
Starting our day early after an Australian Breakfast buffet at the station, we commenced our 3.5hr walk up Kings Canyon. The hardest part was hiking up the mountain, it was a lot steeper than it looked. But once up the top, it was well worth it. It is hard to describe the canyon as it was such a combination of nature. From water holes to barren sandy grounds, from greenery, to dead trees, from steep steps and dramatic drops. It had it all. Many of times, when the others around you had disappeared into their own exploring, it was easy to feel like you were the only one on earth for a while.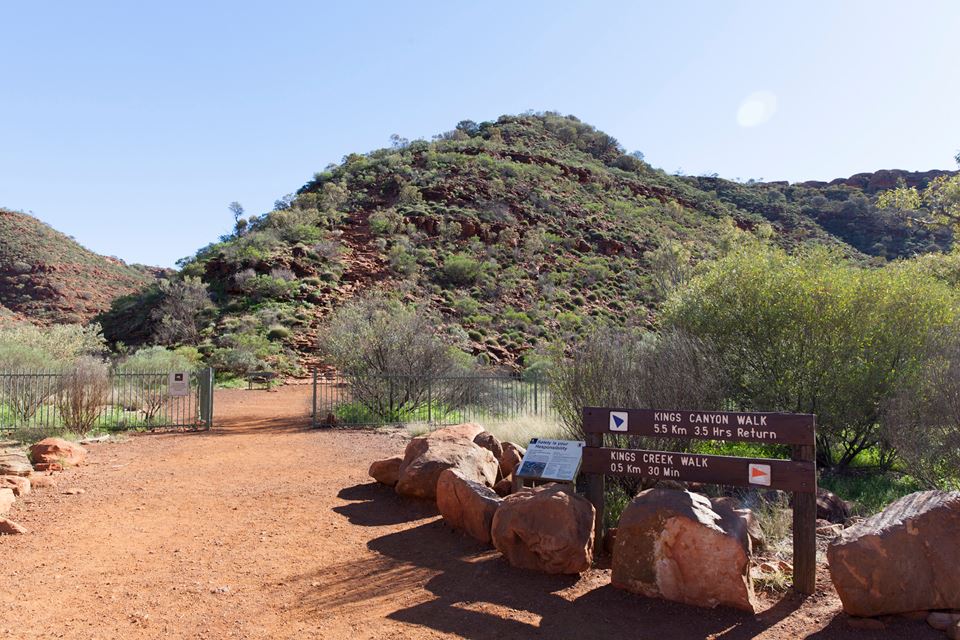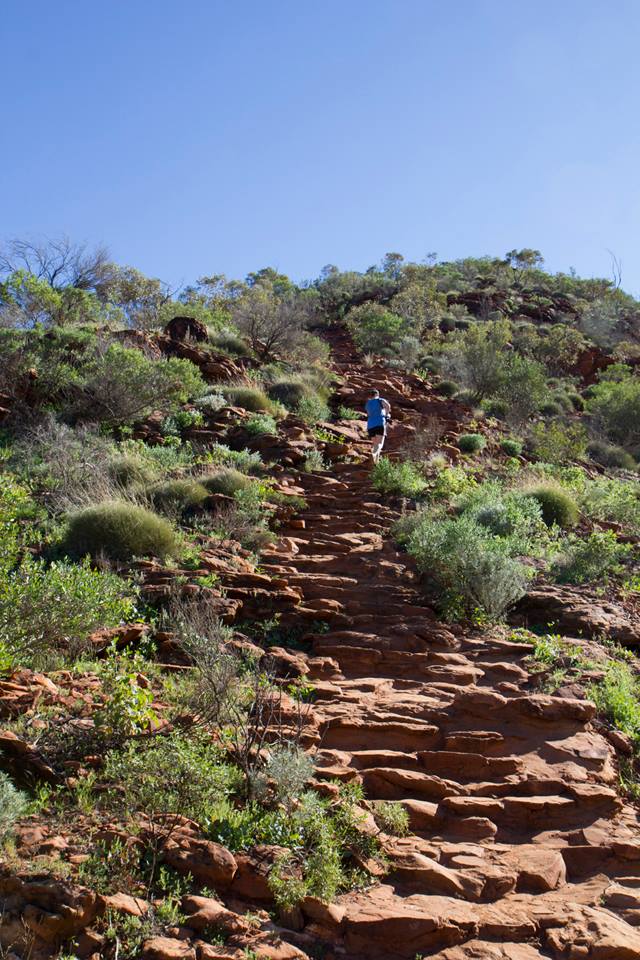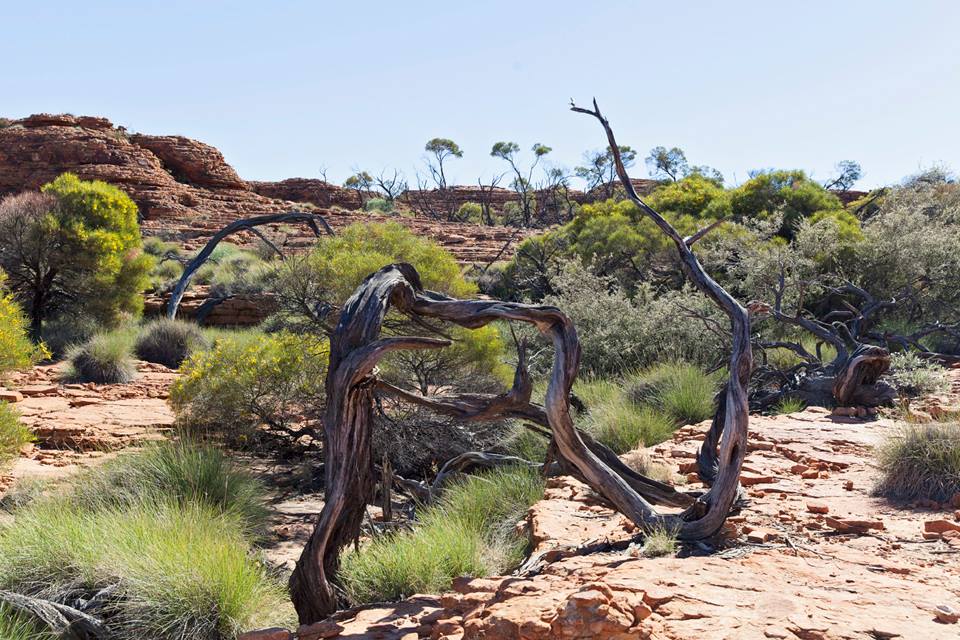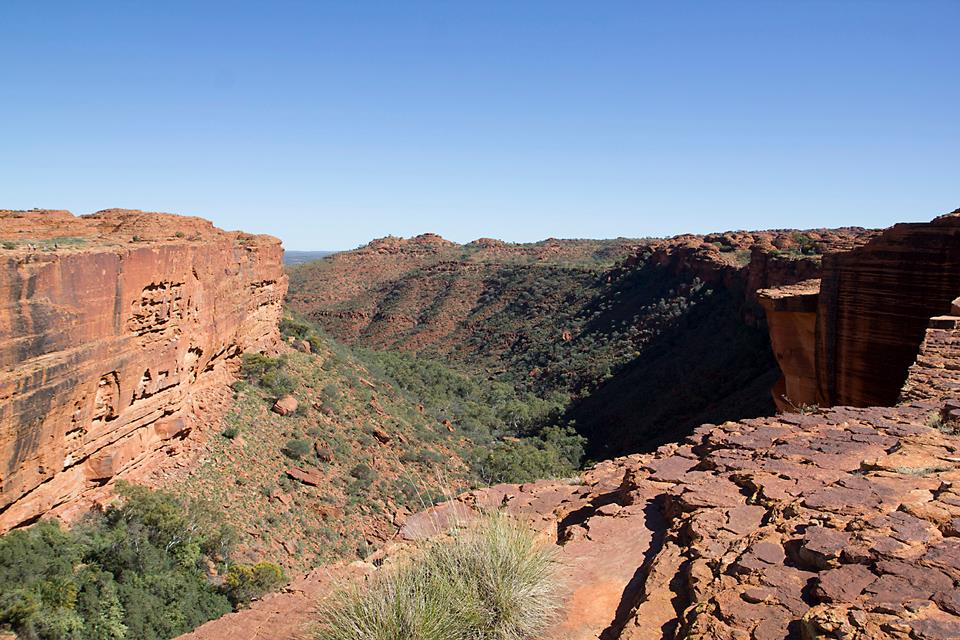 DAY 5 – ALICE SPRINGS
Google Maps told us it was about 5.5hrs from Kings Canyon to Alice Springs but it took us about 3.5 hours (sticking to speed limit) . We stayed at the Double Tree Hilton on Tourist Drive, (near Lassesters Casino). The hotel had a great buffet and restaurant which served us for our dinners and breakfasts for the 2 nights.
We drove around the corner to the Botanical Gardens and ate at the cafe below which served delicious food for lunch, then walked up the steep hill to get a better view of Alice Springs.
I wasn't sure what to expect of Alice Springs but one that I did not expect was a town amongst the mountains. It was somewhat "pretty" but I can't say that Alice Springs was my favourite. We walked down Todd Mall, the main area in A.S and then retreated to our hotel for cocktails which were hard earned after our 4 days of hikes.

DAY 6 – SIMPSONS GAP, ELLERY CREEK, STANDLEY CHASM
Not having a 4WD we weren't allowed to see many of the other sites in the Macdonnell ranges National Park near the Alice so we decided to travel to all the sights that were easily within our reach in the West Macdonnell ranges. First stop: Simpsons Gap. An easy walk along the Larapinta Trail brings you to this stunning gorge.
Next stop was an easy drive to Standley Chasm. The land is Aboriginal owned and operated and has a campground and cafe nearby which served as our spot for lunch before taking the scenic walk through the 80 metre sandstone that has been broken away by years of floods.

Our last stop for the day was Ellery Creek, further along in the National Park. A great spot for campers to swim during summer, we had a cloudy, cooler day but was still easy to see the beauty of the place.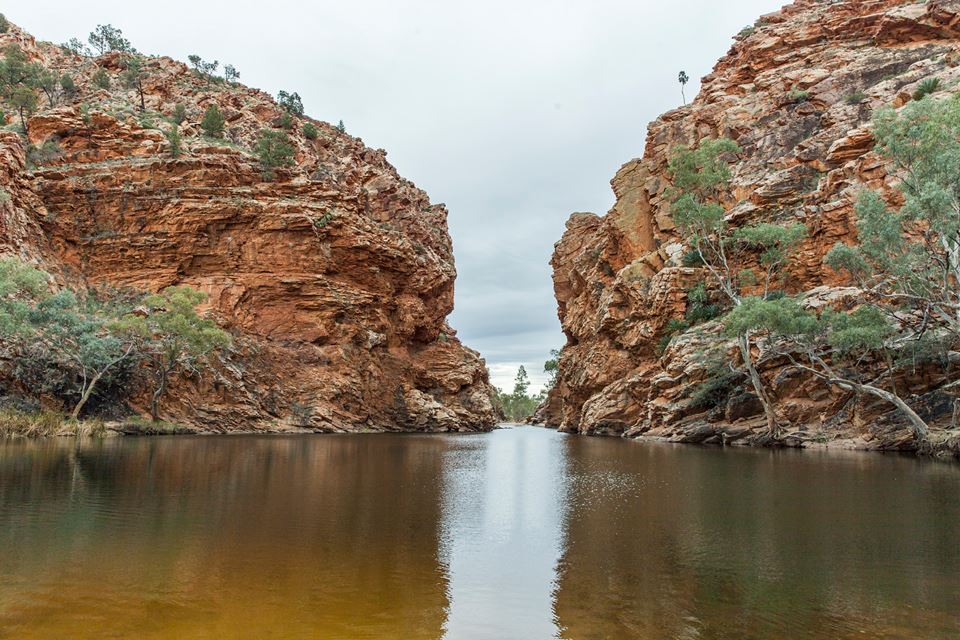 Australia and its outback is definitely one for the bucket list. Even if you can only manage a short trip, It's amazing what you can see in only 6 days.